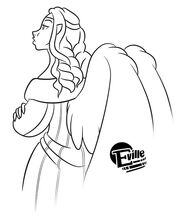 Gabriel, commander of the heavenly hosts, we who are unworthy beseech you, by your prayers encompass us beneath the wings of your immaterial glory, and faithfully preserve us who fall down and cry to you: "Deliver us from all harm, for you are the commander of the powers on high!"
-Troparion (Tone 4)
Gabriel is the only female among the Throne, known for her bravery and ties to the archangel Warriors, being a former Warlord herself. It was she who told the Virgin Mary of her unborn son. She had fought alongside Michael and Raphael for hundreds of years before seeking a position under Metatron, having grown weary of battle. From there she adopted the job of a spokesperson and courier of The Throne. For a period, she retired to serve as a birther in population control, when other female angels were very reluctant to partake in the act of breeding. Gabriel had mothered 32 angelic children in a dire stretch of time in which angels were becoming nigh extinct. Her swiftness is unmatched; there is no being on the Terrestrial nor the Celestial plane faster than Gabriel in flight. She is talkative and soothing, prone to break uncomfortable silence, occasionally at the wrong times. Her symbols are the spoon, the pearl, and the swift.
Ad blocker interference detected!
Wikia is a free-to-use site that makes money from advertising. We have a modified experience for viewers using ad blockers

Wikia is not accessible if you've made further modifications. Remove the custom ad blocker rule(s) and the page will load as expected.